Our services cover the companies which deal with (nails , rivets , chains , screws , the mineral meshwork ( with square and rhombus form ) , spiral spring , the meshwork for decoration , the household appliances , barbed wire , welding bars , cages , with all shapes and what is alike in the industrial production world .

In addition to the expansion and development of the local mineral industry and its emancipation over the world, Mr.Abdul-Kareem Najjar's sons expand their construction by increasing the production lines and renewing it by offering several products and with introducing the line of smooth and brightening the wires , bars as well . They establish a blast furnace to ferment the iron by specifying the carbon proportion ( average ) in the ferric to control with its degree of hardness and softness that required for each specific industry. Moreover , they bring up two complementary lines to produce the iron and steel nail with all standards .Finally Njjars's factory produce the metal meshwork and chains . Since 2000, the total capacity of our factory reached for more than twenty thousand tons a year.As a sign of our success , development and expansion of the company , Where they create a complete line of galvanized metal wire to the protector and is the first in the region and has a production capacity of 25 tons per day.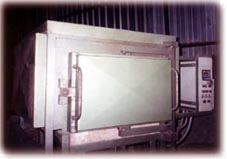 our company imports more than fifty thousand tons of the soft windings round iron within the diameter from 5,5- 6 – 6,5 mm which are used as raw materials in industry and trade .